At all times, our goals as Backpacking Instructors are to help you learn the skills you need to continue this sport on your own. Learning and then applying these skills during the trip completes the learning experience. Having said that, you are invited to participate in camp chores as much or as little as you desire. All trips are designed for fit participants with no previous camping experience.
Our mission:

to encourage guests to try something new, in a place they've never been, with guides and people they don't know, and to do it with the least possible stress.

to help you learn the skills you need to continue this sport on your own.

to teach skills experientially

to impart a new competence and confidence in self-sufficiency

to create a connection with the land

to live comfortably in the wilderness

to laugh more than you ever have

to perhaps create relationships that last beyond the trip
The Core Curriculum:
Leave No Trace Training
How to pack a backpack
Equipment selection: news on all the latest gear, pros and cons
Backcountry cooking: equipment, food selection, nutrition, & preparation
Food storage from animals
Water procurement & purification, methods, pros & cons
Hygiene & sanitation
Navigation by Map & Compass
Reading the lay of the land
Teaching through modeling and storytelling
Wilderness safety procedures & mountain medicine
Geology, wildflower identification, & the natural & human history of our mountain classroom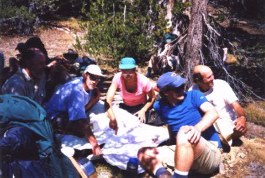 Trips Include:
Professional Guides & Instructors
Backpacking and map and compass instruction
Detailed topographical map of your hiking area
Information on the area's flora, fauna, natural and Human history
Group camping & cooking equipment
Breakfasts, lunches, snacks, dinners, hot drinks
Bear canisters - light-weight Bear Vaults, not the heavier ones
rented by the park.
2-person backpack tents, some singles available
Group safety equipment
Water treatment options
Wilderness permits
Campground fees
Pre-trip Informational Support
Not Included
Transportation to the meeting place, Yosemite Park entrance fee, personal gear, insurance of any kind, guide gratuities, trying to sell you gear you don't need.
Hope to see you on the trail !- Karen.