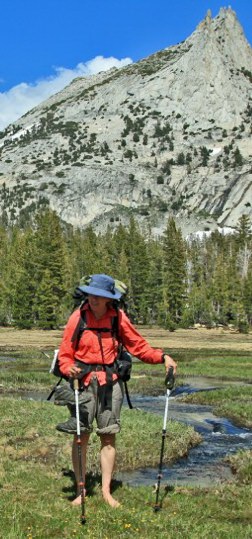 We appreciate your visit to our website and hope that you'll join us on a Backpacking Trip in the High Country of Yosemite or Inyo National Forest. We look forward to hearing from you and hiking with you in our mountain home.
- Sierra Spirit
925-229-8133 office
925-699-6953 cell
sierramaclure@sbcglobal.net
Friend/Subscribe Sierra Spirit LLC on Facebook &
Friend Karen Najarian to keep up with more Adventure possibilities.

Guide Virginia barefootin' through
soggy Cathedral Meadow.